This would make a lovely dessert for any Spring dinner. It would be a nice dessert for Easter, too. Since the first day of Spring is tomorrow, I thought it was a perfect time to share this recipe.
I was leaning towards making a cheesecake. Then I discovered I only had one box of cream cheese. Not enough for a cheesecake. While searching my fridge for cream cheese, I found a couple of lemons. I suppose I could have made a lemon pie, but I decided to just make something up with what I had, including the cream cheese. This lemon tart was the result.
Before I get to the actual recipe, let me talk about the lemons, and including fresh lemon juice in recipe directions. Recipes will often list the "juice of a lemon" in the ingredients. There is about the same amount of lemon juice in all lemons, so that a little difference, one way or the other, is no big deal. The amount is anywhere from 2-3 tablespoons of juice in a lemon. You might get 4 tablespoons, if the lemon is really big. I have used that phrase in recipes myself.
Sometimes, however, you have to recognize when you have lemons that aren't "average".
The two lemons I had on hand were big, really big. When I juiced them, I ended up with 2/3 of a cup of lemon juice. So, in this recipe I used the actual measurement of the juice, rather than saying, "the juice of 2 lemons." Three or four average sized lemons should give you 2/3 cup of juice.
So here is the recipe for my lemon tart, the happy end result of using what I had, and making it work.
Spring Lemon Tart
Crust:
1½ c. crushed vanilla cookies
4 T. melted butter
Filling:
1 (8oz.) container cream cheese, softened
½ c. sugar
2/3 c. lemon juice
Zest of two lemons
3 eggs
¼ c. cornstarch
Combine crust ingredients in medium bowl. Press crumb mixture into a 9–inch springform or tart pan. Bake in a preheated 350-degree oven for 10 minutes. While the crust is baking, make the filling. In mixing bowl combine the cream cheese with the sugar and beat until fluffy. Add the lemon juice and zest and beat well. Add the eggs and cornstarch and beat until smooth. Pour filling over the baked crust and return to oven. Bake for 35 minutes, or until golden on top. Center will be soft, but firms as the tart cools. Cool, then refrigerate until ready to serve. You can dust with powdered sugar, if you like. Serves 6.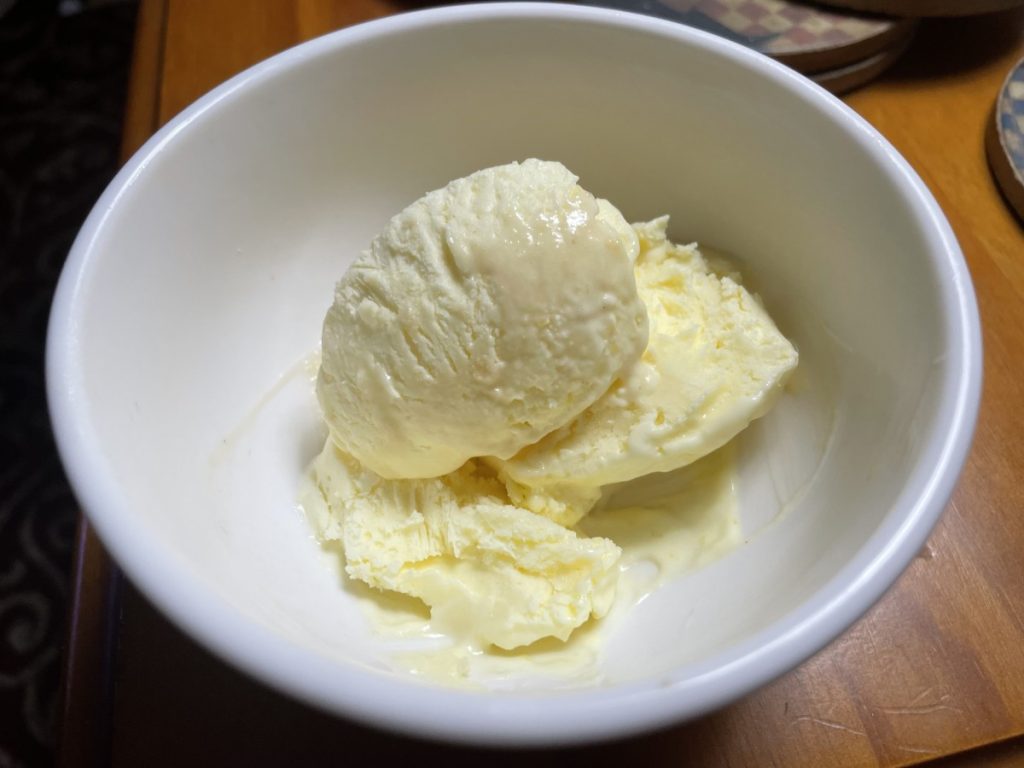 This is one of the easiest ice creams to make. You don't need an ice cream machine to make it and there are only three ingredients, if you count the lemon curd as one ingredient. I did make my own lemon curd- recipe follows, but you can just use a jar of store bought. It has the nicest flavor and texture.
This ice cream came about because I had made lemon curd for a party and had some left over. I also had whipping cream that needed to be used up. I combined the two and it was even better than I thought. Two friends have tried it so far and both really liked it.
Here is the recipe.
Lemon Curd Ice Cream
1-1 1/2 cups heavy whipping cream
2 cups lemon curd
1/2 c. powdered sugar
In a medium mixing bowl, whip the cream until soft peaks form. Beat in the lemon curd and sugar and place in a freezer container and freeze until ready to eat. Makes about a quart. I told you it was simple!!!
Lemon Curd
1/2 c. lemon juice
zest from one good sized lemon- you should have 2-3 teaspoons
1/2 c. sugar
3 eggs
6 T. unsalted butter- cut into little cubes
In medium saucepan, combine all ingredients. Whisk the mixture until the eggs are well blended. Cook over medium low heat, whisking often, until the mixture thickens. This will take 5-7 minutes. Whisk more often as mixtures warms and starts to thicken. Better to heat over lower heat and take longer than cook over too high a heat. You don't want the eggs to scramble. Once the mixture is thickened , transfer to a bowl or jar. Cover the surface with a piece of plastic wrap to keep the surface from developing a skin- like any pudding will do. Chill until ready to use. Makes about 2 cups. Will keep in fridge a week or two.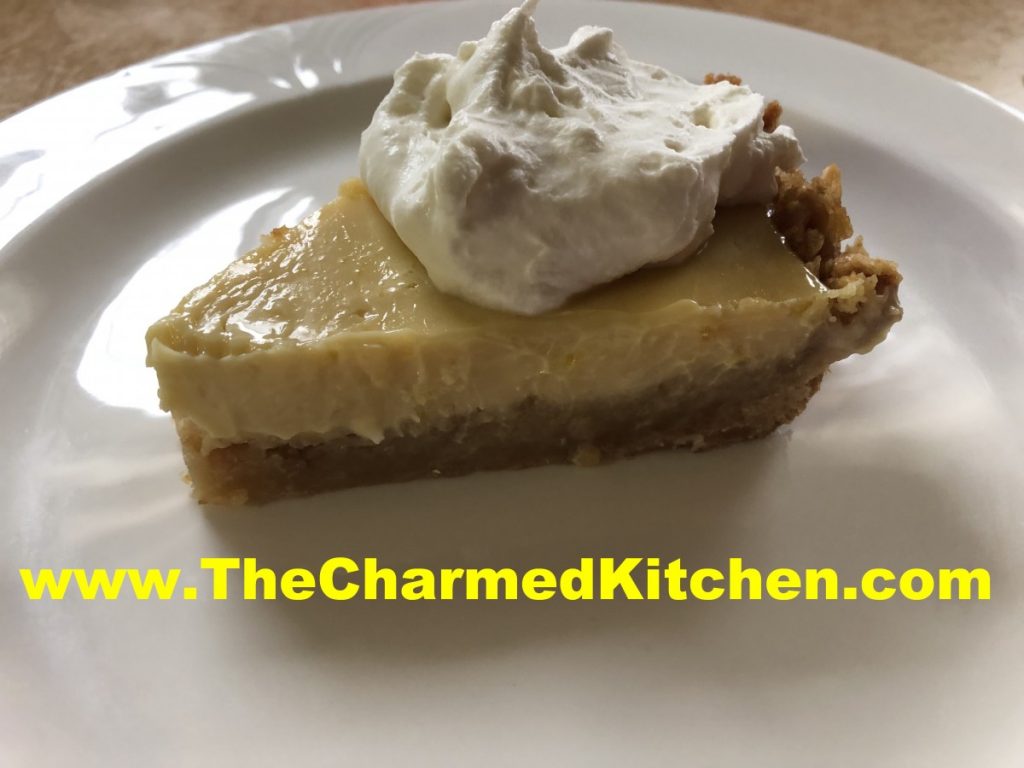 This might be one of the best lemon pies I have ever had. It was simple to make, with a surprise ingredient in the crust. That ingredient is saltine crackers! They work so well in this crunchy and slightly salty/slightly sweet crust. Perfect with the lemon filling.
I first heard about this pie in one of my cooking classes. A woman mentioned it to me after class. Said she saw it on a TV show. I looked for it online. Odd thing was that every recipe was exactly the same. Even down to the wording in the directions.
I found one reference to the recipe first showing up in Cook's Country Magazine about 6 years ago. I prefer to credit the source of a recipe, when possible.
I did change a couple of things from the original recipe. I added more lemon zest- from 1 tablespoon to 2. What can I say? I like a zesty pie.
I also thought it was odd to make so little whipped cream for the topping. Assuming you had a cup of whipping cream to start with, you use 1/4 cup in the pie filling. That leaves you with 3/4 cup of whipping cream. The recipe only calls for whipping up 1/2 a cup of whipping cream. I rounded it up in the recipe to 3/4 cup. Honestly, I would make even more topping the next time.
I really enjoyed the pie. I think you will, too.
North Carolina Lemon Pie
Crust
6 oz. saltine crackers (about 1½ sleeves)
1/8 teaspoon salt
10 tablespoons unsalted butter, melted
1/4 cup light corn syrup
Filling
1 can sweetened condensed milk (14-ounce)
4 large egg yolks
¼ cup heavy cream
1-2 T. grated lemon zest- I used 2 tablespoons
½ cup lemon juice
Topping
¾ c. heavy cream, chilled- increase from original recipe. I think even more whipped cream would be better. Just my preference.
1 T. sugar
1 t. vanilla extract
Preheat your oven to 350 degrees. Add the saltines and salt to the food processor and pulse until you have coarse crumbs (about 15 pulses). Add the melted butter and corn syrup and pulse until the crumbs are well combined.* Add the cracker mixture to a greased 9-inch pie plate. Use the bottom of a dry measuring cup or glass and press the crumbs into an even layer on the bottom and up the sides of the dish. Place the pie plate on a baking sheet and bake until light golden brown, 17 to 19 minutes. Prepare filling while the crust is baking. Whisk the sweetened condensed milk, egg yolks, cream, and lemon zest together in a bowl, add the lemon juice and whisk until well combined. With the pie plate on the baking sheet, remove it from the oven and pour in the filling (the crust does not need to be cooled) and place it back in the hot oven. Bake until the edges of the pie are set but the center still jiggles, 15 to 17 minutes. Place the pie on a wire rack and let it cool completely. Refrigerate the pie until completely chilled.
For the topping, use a stand mixer fitted with a whisk and whipped the cream, sugar, and vanilla on medium low until foamy (about a minute). Increase the mixer speed to high and whip until stiff peaks form, 1 to 3 minutes. Spread the whipped cream over the top of the pie and serve cold.
*Note: I will admit to just crushing up the crackers by putting them in a bag and using a rolling pin. I had a few larger pieces. Still worked. I think it gave the crust a crunchier texture. Although it sank down into the pie pan when I baked it- so maybe next time I will crush the crackers a little more.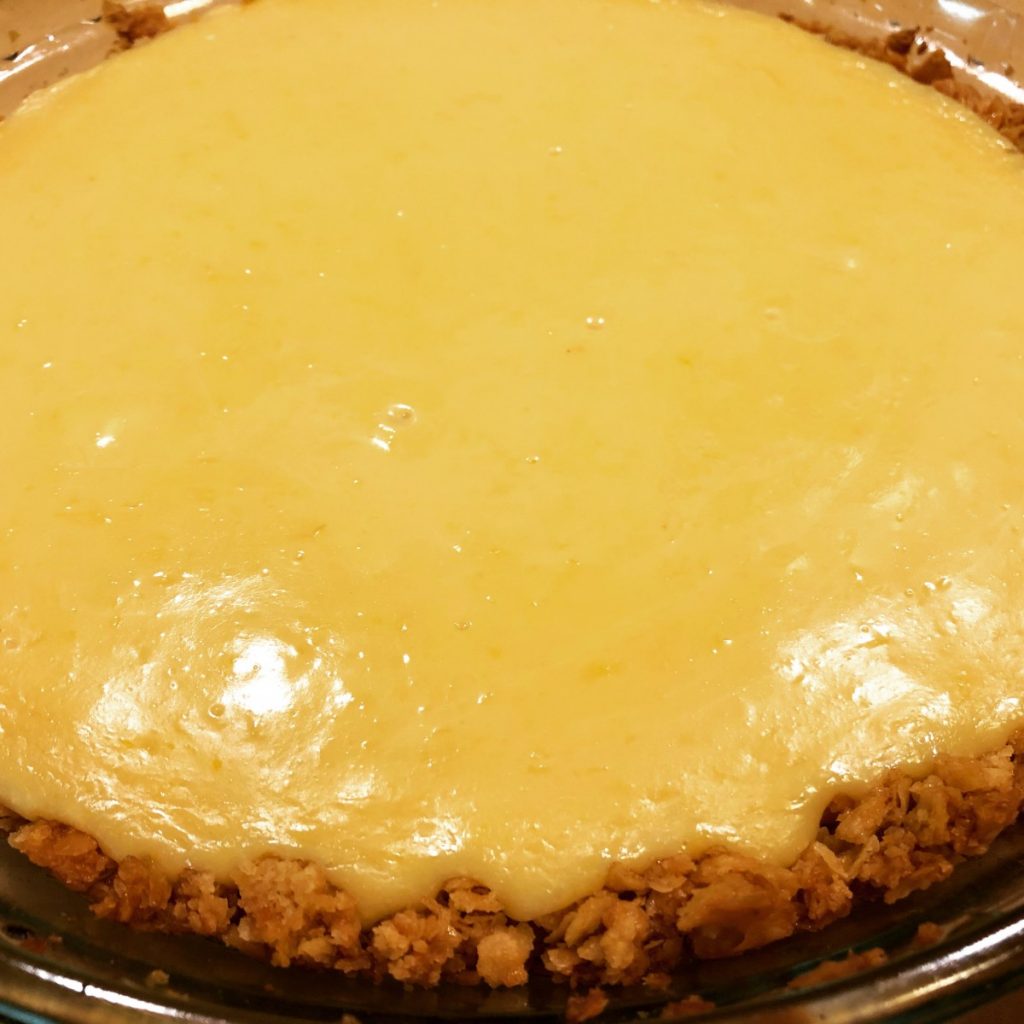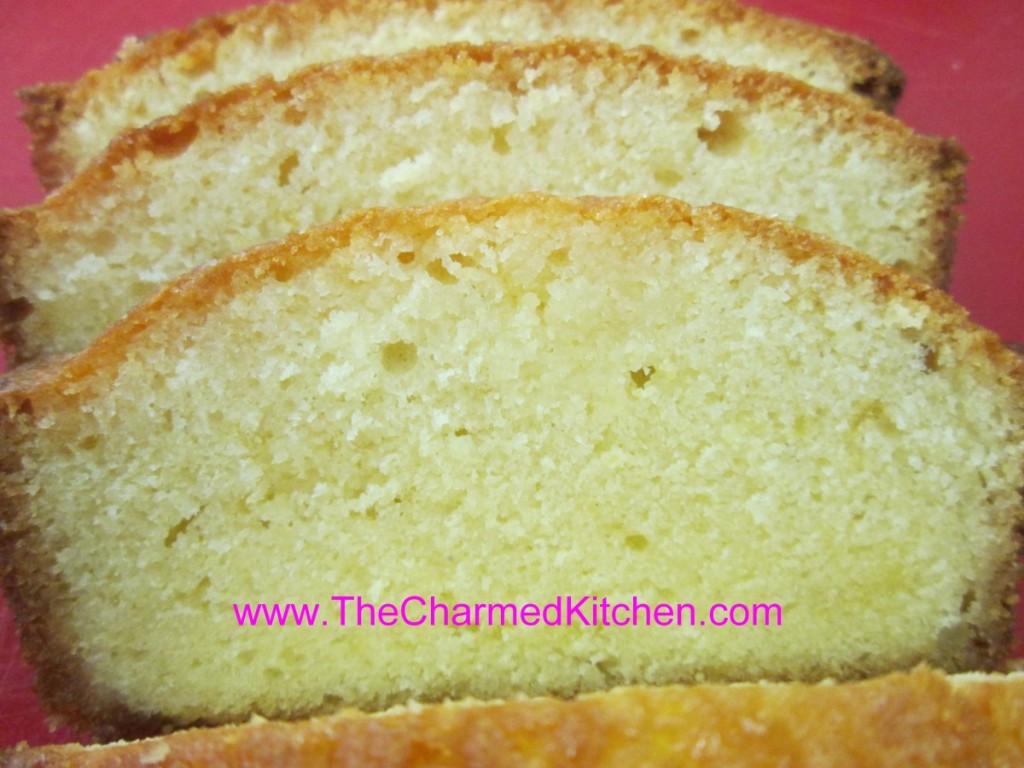 This is one of my favorite cakes of all time. It is a simple cake, enhanced with the flavor of lemon juice and lemon zest. Once out of the oven, you poke the hot cake with a large fork or a skewer, and pour a lemon syrup over it. The syrup gives the cake an extra lemony tang. It is a perfect addition to afternoon tea.
When my friend Courtney gave me some Meyer lemons she grew, I knew I wanted to do something special with them. I couldn't think of anything better than this cake. Meyer lemons are a little sweeter than other lemons, but still tangy enough for this cake.
Great all on its own, this cake is also wonderful served with fresh berries and whipped cream for a Spring dessert. On a hot day, I have been known to top it with a scoop of ice cream.
Before you ask, the measurements are correct- only 3/4 cup of flour. No leaveners like baking powder or baking soda, either. The cake does not rise a whole bunch, but the texture is still very nice. The texture of the cake helps it to stand up to the lemon syrup.
Lemon Tea Cake
2 lemons
3 T. sugar for topping
½ c. butter, softened
¾ c. sugar
2 eggs, beaten
3/4 c. flour
6 T. milk or half and half
Preheat oven to 375 degrees. Grease an 8- inch loaf pan and line with wax or parchment paper. Grate the lemon rinds and set aside. Combine the juice of 1 of the lemons with the 3 tablespoons of sugar, stirring to dissolve sugar. Set aside.
Cream together the butter with the rest of the sugar and beat until fluffy. Beat in the eggs, a little at a time until well mixed. Stir in the flour and lemon peel and beat well. Add the milk and beat well. Pour batter into prepared pan and bake at least an hour. The cake should spring back when touched lightly. As soon as you remove the cake from the oven pierce it all over with a long-tined fork or a skewer. Pour over the reserved lemon juice mixture. Cool cake in pan before serving. Cake will be moist and tangy.
I make homemade liqueurs throughout the year, using seasonal fruits. Fall and winter are best for citrus, so it is lemon liqueur time!!! All you need to get started is a jar, some vodka and lemons. Since you are using the peels, best to use organic lemons, if you can find them. Use a vegetable peeler to get just the yellow part of the lemon peel. A little of the white is OK, but too much will make your liqueur bitter. Combine the peels with the vodka in a jar with a tight-fitting lid. Now it's just a waiting game. Once the peels have steeped long enough to flavor the vodka, just sweeten, if you like, and let the liqueur mature a little longer. Well worth the wait. You can use the same recipe to make lime liqueur, too. You can also use half lemon and half lime peels in the same batch for lemon/lime liqueur. You can also add other flavors, like mint, to your mixture.
Homemade Lemon Liqueur
8 lemons
3 c. vodka
1 c. sugar syrup
Peel lemons using a vegetable peeler. Use only the yellow part of the peel. If you get larger pieces of the white pith, scrape off and discard. Place peels in jar with the vodka. Cover and place in a cupboard.
Steep peels 2-3 weeks. Strain and filter and add sugar syrup. Mature 1-2 weeks.
Note: you can also make lime liqueur with the peels of 8 limes, or use 4 lemons and 4 limes for a lemon-lime liqueur.
Variation: You can also use rum as the base for a great daiquiri!
Note: To make citrus flavors without the peels substitute 2 t. pure extracts for the fruit and add sugar syrup right away. Just steep a few days to mature a little.
Also, lemon or lime are terrific unsweetened, to add to other cocktails. You can make some without the added simple syrup.
Continuing with my cooking with lemonade assignment I came up with a simple salad dressing. It's only 4 ingredients and while I used it on this corn salad it would also be great tossed on a green salad or maybe a potato salad. I am always looking for new salad ideas. This is one I will be making again soon.
Corn Salad with Lemonade Mustard Dressing
6 c. cooked corn, off the cob
1 sweet pepper, seeded and chopped
1 small sweet onion, diced
½ c. chopped fresh parsley
1 recipe lemonade mustard dressing- recipe follows
Combine all ingredients in a bowl. Cover and chill at least an hour before serving. Serves 8.
Lemonade Mustard Dressing
½ c. oil
1/3 c. lemonade concentrate, thawed
2 T. whole grain mustard
1 t. hot pepper sauce, or to taste
1 t. salt, or to taste
Place all ingredients in a jar and shake to combine. Serve as a salad dressing on mixed greens or with assorted veggies.
I always enjoy the combination of lemon and cheesecake. I wanted a new recipe and decided to  jazz up the flavor with lemonade both in the filling and as a glaze on top. The end result is just what I had hoped for. Creamy, not too sweet and a pop of lemon flavor from the glaze. I also wanted to add more texture to the crust so I added some oats in addition to the graham crackers and baked this cheesecake in a 9×13-inch pan. You could serve it with a few berries on top, if you like. Here is the recipe.
Lemonade Cheesecake Squares
Crust:
¾ c. butter (1½ sticks)
1 ¼ c. graham cracker crumbs
1 c. oatmeal, old-fashioned or quick cooking
¼ t. salt
Filling:
2 (8oz.) packages cream cheese, softened
¾ c. frozen lemonade concentrate, thawed*
3 T. flour
2 eggs
2 t. grated lemon peel
Glaze:
¾ c. frozen lemonade concentrate, thawed*
2½  T. cornstarch
Heat oven to 350-degrees. Grease a 9×13-inch baking pan. Beat together butter with the rest of crust ingredients. Press into bottom of prepared pan and bake 20 minutes. Beat cream cheese, lemonade and flour until fluffy. Stir in eggs and peel. Pour over crust and bake for 25 minutes, or until set. Cool then add the glaze. To make the glaze: in small saucepan combine the lemonade with the cornstarch. Heat together over medium heat until mixture becomes thickened and bubbly, stirring constantly. Pour over cheesecake. Store covered in fridge. Makes 24 squares.
*You can use store bought frozen lemonade concentrate or here is the recipe I use to make my own.
Homemade Lemonade Concentrate
1 1/3 c. lemon juice- fresh or bottled
1 c. sugar
lemon zest, optional
Combine ingredients and stir until sugar is dissolved. Freeze until ready to use. Makes a little over 1 1/2 cups. To use: combine three parts water to one part  concentrate.
http://thecharmedkitchen.com/2014/07/12/homemade-lemonade-mix/
Lemonade will always be a favorite summertime drink for me. I make it plain or sometimes with berries added. I like the convenience of those frozen lemonade concentrates but I prefer using fresh squeezed lemon juice.  I started making my own concentrate a few years ago when I got a whole case of lemons from a friend. I juiced the lemons  and froze much of the juice just plain. There was still a lot of juice.  I decided I might as well try to make some lemonade concentrate, too. I went to the store and read the ingredients on several brands of frozen lemonade concentrate. High fructose corn syrup and concentrated lemon juice. Well I decided that wasn't going to work for me so I did something radical. I stirred some sugar together with lemon juice until the sugar dissolved.  There didn't seem to be much point in adding water- that would defeat the purpose of it being a concentrate. Then I just froze the juice/sugar mixture.
Sometimes I freeze a whole batch together either in a plastic container or in a Ziploc bag.  I also froze some of this lemonade mix in ice cube trays. That way once frozen I could pop the cubes into bags and just take out what I needed at the time. I'll often add some lemon zest, too. Don't toss all that zest, either. If you are going to be juicing a lot of lemon just for the juice, zest them first- and freeze or dry the zest for later use.
Well here is the recipe for my lemonade concentrate.
Homemade Lemonade Concentrate
1 1/3 c. lemon juice- fresh or bottled
1 c. sugar*
lemon zest, optional
Combine ingredients and stir until sugar is dissolved. Freeze until ready to use. Makes a little over 1 1/2 cups. To use: combine three parts water to one part  concentrate.
* You can use honey instead of sugar- but only use 1/2 c. honey as it is much sweeter than sugar.