I love sweet potato pie. I am always surprised when someone tells me they  have never had it. Maybe it is a north/south thing? I have made it for friends several times, and there is always someone who says they never had a sweet potato pie before.
Once they taste it, they love it. Some people say that they prefer sweet potato pie over pumpkin pie. I like both, but it gives you another pie option for Thanksgiving.
I used to work with a wonderful woman named Hazel Pruitt. She grew up in Alabama and taught me so much about southern cooking. I first made collard greens with Hazel. She also taught me how to make sweet potato pie. This is her recipe and I want to share it with you. I think of her every time I make it.
I used Martha Stewart's recipe for the crust, but use whatever crust you like. Her recipe makes two crusts, so I will use the other half of the dough for another pie.
Hazel's Sweet Potato Pie
½ c. sugar
1 t. cinnamon
½ t. allspice
½ t. salt
¼ t. cloves
1 ½ c. cooked, mashed sweet potato
2 eggs, beaten
1 c. milk or almond milk
2 T. melted butter or 2 T. olive oil
1 (9-inch) unbaked pie crust
Combine sugar with seasonings. Stir in remaining ingredients and combine until smooth. Pour into pie crust and bake in a preheated 400 degree oven for 40 minutes, or until filling is set.
Martha Stewart's Pie Crust Recipe
2½ c. flour
1 t. salt
1 t. sugar
2 sticks (1 cup) butter, very cold
About 6 T. ice water
Combine dry ingredients and cut in butter to resemble coarse crumbs. Using a fork to mix the dough start to add the ice water a tablespoon or 2 at a time until mixture just holds together. Wrap and chill until ready to use. Makes 2.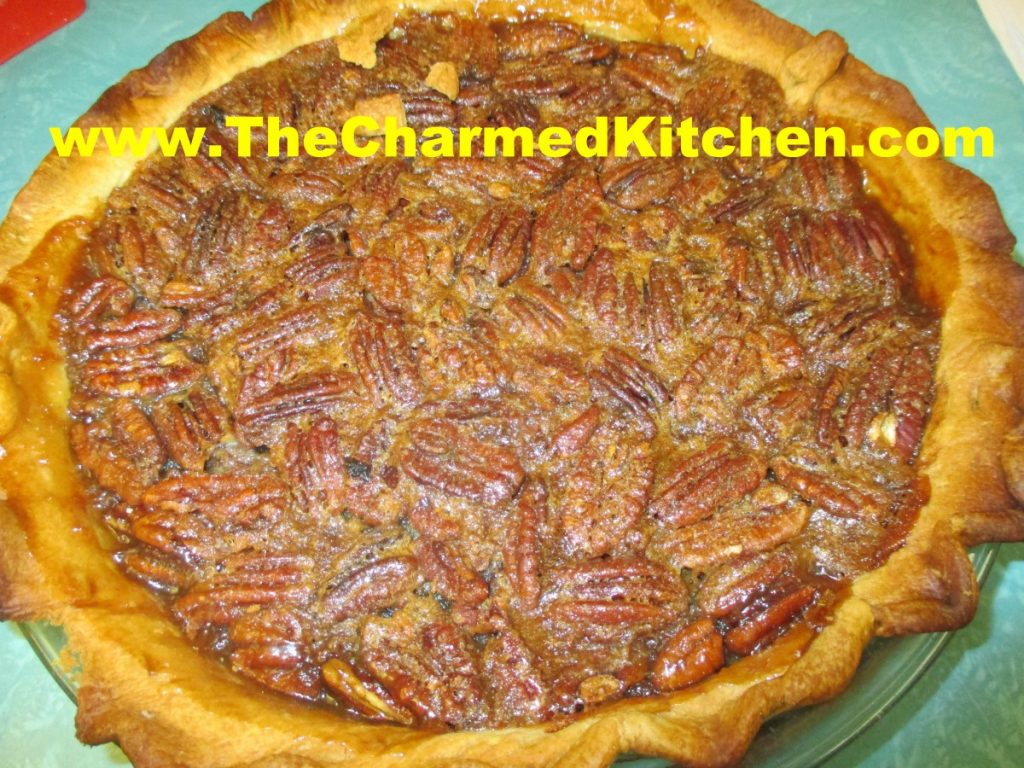 I love all sorts of pies. I would never want to pick just one favorite. If I had to pick, pecan would probably be it. The nuts, the sweet filling and the crispy crust all work so well together.
Served plain, or with a dollop of whipped cream, pecan pie just works for me. It is not a pie I make very often, so I think pecan pie always makes me thinks of the holidays. It was also a favorite of my Mom's.
Here is the recipe. The crust recipe follows.
Classic Pecan Pie
3 eggs, slightly beaten
1 c. light or dark corn syrup
1 c. sugar
2 T. Butter, melted
1 t. vanilla
1½ c. pecans
1 unbaked 9-inch pastry crust
In medium mixing bowl beat together all ingredients, except the pecans until well mixed. Stir in nuts and pour into crust. Bake in a preheated 350 degree oven for 50-55 minutes or until knife inserted off center comes out clean. Makes 1.
Chocolate Pecan Pie Variation: The same recipe as above, but reduce sugar to 1/3 cup and add 4 oz. of German sweet chocolate or semi sweet chocolate, melted and cooled along with the eggs. This pie sometimes needs a little more time to bake-5 minutes or so.
Variations: You can experiment with other nuts. Try toasted, skinned hazelnuts, chopped coarsely or walnuts, slivered almonds or a combo.
You can use a store bought crust, but I prefer homemade. This is the crust recipe I normally use when I make pecan pie. It makes two crusts, so you can cut the recipe in half, freeze half of the dough, or just make 2 pies!!!
Half and Half Dough
This is a great crust for liquid fillings like custard type pies, pecan and pumpkin. For a sweet pie like pecan you can reduce the sugar in the crust by half.
¼ c. butter, room temp
½ c. shortening, room temp, or lard
¼ c. sugar
½ t. salt
2½ c. pastry or all purpose flour
1/8 t. baking powder
¼ c. milk
1 t. lemon juice
Cream together the first 4 ingredients until smooth. Mix together the flour and baking powder. Set aside. Combine milk with the juice and set aside. Stir ½ c. of the flour into butter mixture. Stir until smooth. Add a little of the milk, stirring until smooth. Add remaining ingredients alternately until finished. Dough will firm up once chilled. Chill at least 4 hours before using. Makes 2 crusts.
I have posted this recipe before, but I think it is worth posting again. If the only way you enjoy sweet potatoes is as a side at the holidays, or in pie, it is time to expand your thinking about them. In this recipe, the mashed sweet potatoes add both sweetness and moistness to the finished cake. Great plain, or with a dollop of whipped cream and some fresh berries. This cake makes a great dessert or a nice addition to a brunch menu. Also a nice way to use up leftover mashed sweet potatoes, if you find yourself with leftovers.
Sweet Potato Pound Cake
1 1/2 c. cake flour*
1/2 t. each baking soda, salt, cinnamon and nutmeg
1/2 c. unsalted butter, room temperature
1/2 c. sour cream, room temperature
1 1/3 c. sugar
3 eggs, room temperature
1/2 c. mashed sweet potato
1 t. vanilla
Preheat oven to 300 degrees. Lightly oil an 8×4-inch loaf pan. Mix flour with next 4 ingredients and set aside. In large mixing bowl beat together butter and sour cream. Beat in sugar and then beat in eggs 1 at a time, beating well after each addition. Stir in mashed sweet potato and vanilla. Stir in dry ingredients and pour batter into prepared pan. Bake until tester comes out clean, about 1 hour and 15 minutes. Cool in pan 30 minutes before loosening cake sides from pan and removing. After cake has cooled wrap in foil and store at room temperature. Serves 8.
* If you don't have cake flour you can make your own. Simply measure out a cup of all purpose flour and remove 2 tablespoons of the flour. That is now the same as a cup of cake flour OR remove the 2 tablespoons of flour and replace them with 2 tablespoons of cornstarch and sift together to combine. I do the flour/cornstarch mix and keep a batch on hand for when I need it in baking.