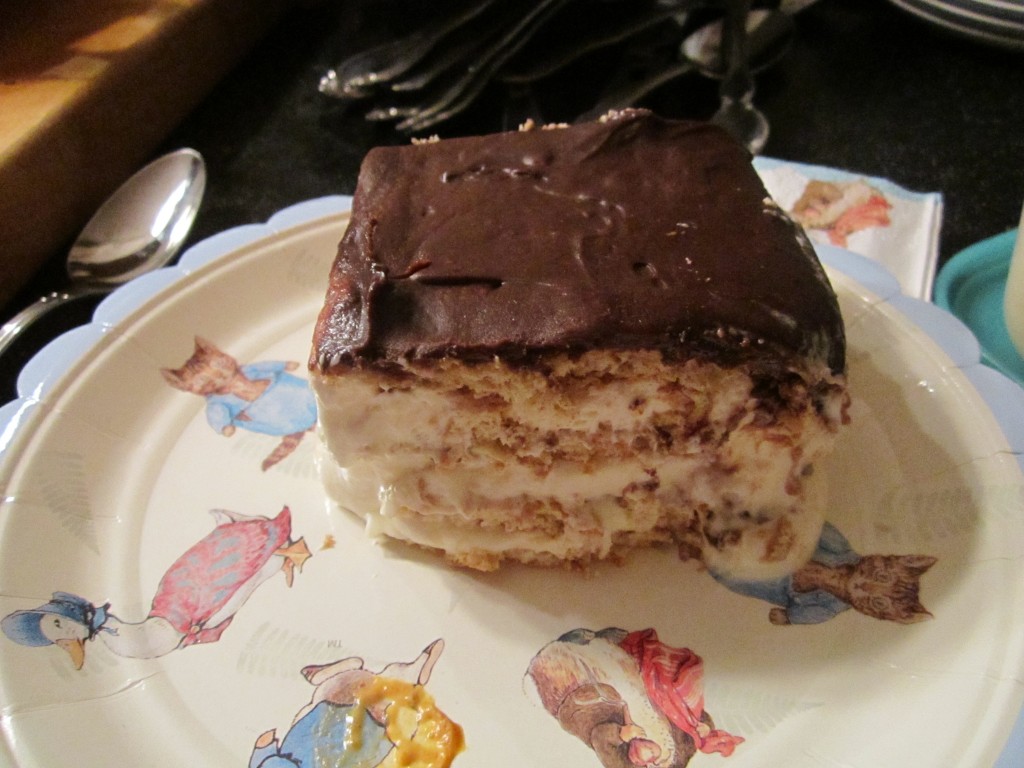 This recipe has been around a long time. It's very tasty and deceptively simple to make. For starters there is no baking involved. Nice when it is hot and you just don't feel like turning on the oven.
The dessert itself is layers of graham crackers and a pudding and cream mixture with chocolate frosting to finish it off. You do need to assemble it a day ahead, so there is some planning needed, but no cooking. As the mixture sits, the crackers soften. When you serve the cake it cuts beautifully. The cake is supposed to remind you of an eclair, thus it's name.
The original recipe calls for frozen whipped topping – like Cool Whip. You can easily substitute real whipping cream.
No-Bake Chocolate Eclair Cake
4 c. vanilla pudding
1 small container non-dairy whipped topping, thawed or 1 cup whipping cream, whipped
1 box graham crackers
1 can chocolate frosting or 1- 2 c. homemade chocolate frosting

Combine pudding and whipped topping  or whipped cream and set aside. In 9×13 inch cake pan place 1 layer of graham crackers. Try to cover the whole bottom of the pan with the crackers, breaking them to fill in gaps, ff needed. Spoon half of the pudding mixture over the crackers and spread out evenly. Place another layer of graham crackers over the pudding mixture and then spoon on the remaining pudding mixture, smoothing evenly. Place last layer of crackers on top. Warm frosting slightly and pour over the top. Spread out evenly. Cover and refrigerate overnight. Serves 10-12.