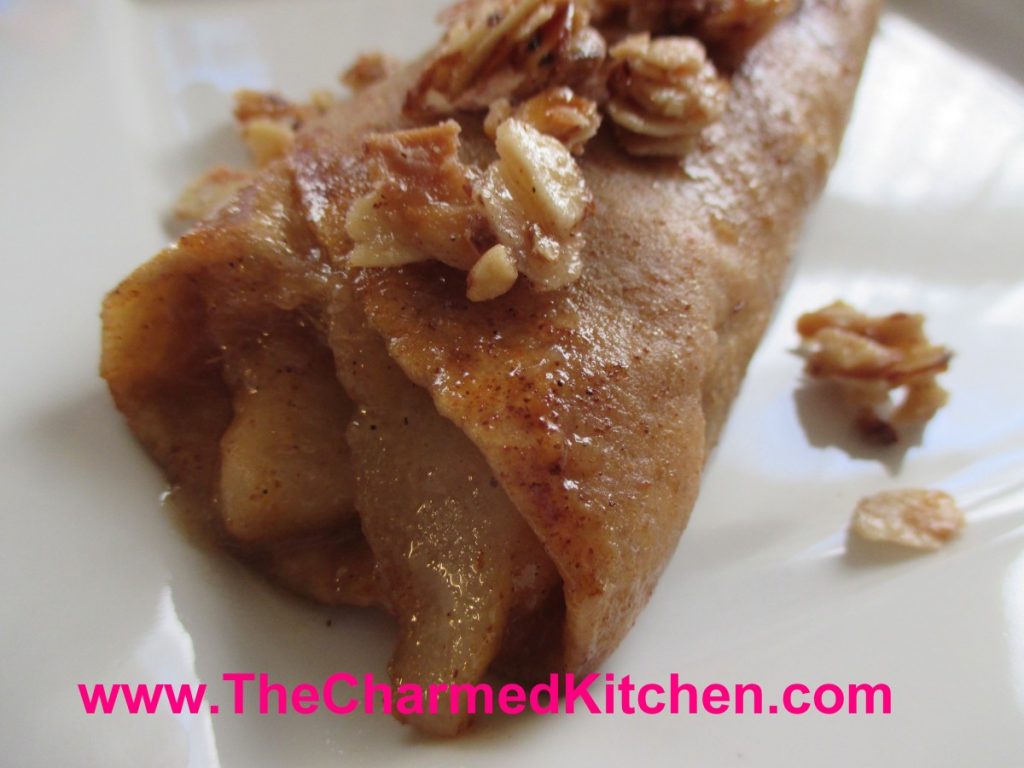 You can enjoy brunch all year long, but I really like brunches for the holidays. If you want to plan a special brunch for New Year's Day- or any day- I've assembled some of my favorite brunch recipes.
I like to include both sweet and savory dishes. I also have coffee, tea and juices for drinking. Mimosas are always a good idea, too.
Amaretto Pear Blintzes with Candied Almonds
Blintzes:
4 (8-inch) flour tortillas, I used whole wheat
2 oz. milk
2 T. butter
Filling:
4 pears, peeled, cored and sliced
½ c. brown sugar
2 T. butter
2 T. Amaretto
1 t. cinnamon
1 t. vanilla
Pinch of salt
Almonds:
¾ c. sliced almonds
½ c. sugar
¼ c. water
½ t. cinnamon
Place tortillas in shallow dish and drizzle the milk over them. Try to get some milk on each of the tortillas to soften them. While the tortillas are softening, prepare the filling. In medium skillet, combine pears with the rest of the filling ingredients and bring to a simmer. Cook on low heat for 3-4 minutes. Set aside. Combine almonds with the sugar, water and cinnamon in medium skillet. Bring mixture to a boil, stirring often. Cook until liquid is evaporated, about 5 minutes. Pour almonds onto a baking sheet lined with a silicone baking sheet or foil. Spread out and allow nuts to cool.
Place butter in skillet and start to heat up the pan. While pan is heating, divide pear filling among the 4 tortillas. Place filling along center of tortilla and fold up edges over, to cover the filling. Heat the tortillas, seam side down, in the pan until golden, turning to toast evenly on both sides. Remove from pan and place on serving plate. Top with some of the candied almonds. Serves 4.
Steak and Pepper Omelet
oil
1 small onion, sliced
1 small red pepper, seeded and sliced
1 c. cubed cooked steak
3-4 eggs
2 oz. cheese- cut in small pieces or shredded*
salt and pepper to taste
dash hot pepper sauce
Heat oil in skillet and cook onion until golden. Add a little salt to the onions while they are cooking. Add pepper and cook until tender-crisp. Remove from pan and set aside. Heat same pan adding more oil, if needed. Beat eggs in a small bowl and season with salt and pepper and hot sauce to your taste. Pour eggs into hot skillet and swirl to coat bottom of skillet. Using a spatula lift eggs a little and tip pan to allow uncooked egg to get to surface of the pan. Once omelet is almost set place some of the pepper mixture on one half. Top with the steak and cheese. Using a spatula gently fold the empty half of the omelet over the fillings. Allow to cook one more minute and slide onto a serving plate. Top with the remaining pepper mixture. Serves 2.
* I used Pepper Jack cheese because that is what I happened to have. Use any cheese you like.
Fresh Blackberry Scones
2 c. flour
1/3 c. sugar
1 T. baking powder
¾ t. salt
6 T. chilled butter
2 c. blackberries, fresh preferred, but you could use frozen
1 t. orange zest
2 large eggs
1/3 c. heavy cream or half and half
Mix dry ingredients together in bowl and cut in butter to resemble coarse crumbs. Toss in berries and zest. Beat together eggs and cream and stir into flour mixture. Mix very gently to avoid bruising berries. Use 1/2 cup ice cream scoop to scoop batter onto a baking sheet. Sprinkle with a little extra sugar, if you like. Bake in a preheated 375-degree oven for 22-24 minutes. Makes 10-12.
Blueberry Sweet Rolls
3-3 1/2 c. bread flour
1 package active dry yeast
1 1/3 c. evaporated milk
6 T. butter
1/4 c. sugar
1 t. salt
1 egg
6 T. butter, melted
1/2 c. sugar
2 t. cinnamon
1 t. grated lemon or orange peel
2 c. fresh or frozen blueberries
In bowl combine 1 1/2 c. of the flour with the yeast, sugar and salt. Heat together the milk and 2T. of the butter until warm and add to the flour mixture, beating 2 minutes. Add egg and beat 2 minutes longer. By hand stir in enough of the remaining flour to make a soft dough. Turn dough onto a lightly floured surface and knead, adding flour as needed until dough becomes moderately stiff. Place in greased bowl, turning once to coat and cover. Allow to double in bulk, about 1 1/2 hours. Punch dough down, cover, and let rest 10 minutes. Divide dough in half. Roll each half into a 14×8 inch rectangle. Brush dough with the melted butter. Combine the remaining sugar, peel and cinnamon and sprinkle over the dough. Top with the blueberries and press the berries into the dough. Starting at the long side roll up dough jelly roll fashion and seal edge by pinching. Repeat with second roll. Cut each roll into 12 slices and place 12 rolls in greased 9 inch round pans. Cover pans and allow to rise until doubled, about 30 minutes. Bake in a 375 degree oven for 20-25 minutes. While rolls are warm, you can top with a powder sugar glaze, if desired. Makes 24.
Ham and Asparagus Quiche
1 (9-inch) unbaked pie crust
1½ c. shredded cheese – I used Havarti
4 t. flour
1½ c. diced cooked ham
12 oz. asparagus, trimmed, cut in ½- inch pieces and steamed 3 minutes
4 eggs
1 c. milk or half and half
2 T. fresh chopped parsley or 2 teaspoons dried
¼ t. salt
1T. Dijon mustard
1 t. hot sauce
Toss cheese with flour in a bowl and place in pie crust. Sprinkle the ham and asparagus over the cheese and set aside. Combine remaining ingredients in a small bowl beating well to combine. Pour over the ham and asparagus mixture and bake in a preheated 400-degree oven for 15 minutes. Turn down heat to 350-degrees and bake until knife inserted off-center comes out clean, about 30 minutes more. Makes 1.
Note: This quiche freezes well. After adding the fillings just wrap in heavy foil and freeze solid until ready to bake. When ready to bake unwrap and allow to sit at room temperature for 30-60 minutes. Bake as with the fresh version, but add another 10-15 minutes to the baking time. If you don't want to freeze the pie pan, you can line the pie pan with foil before you add the crust. Once it is frozen you can remove the frozen quiche from the pie pan and wrap, returning to freezer. When ready to use unwrap and put the quiche back in the pie pan before baking. Or, if you are planning on freezing it, you can use a foil pie pan.
Scotch Eggs
6 hard-cooked eggs, well chilled
1 pound breakfast sausage
1/2 cup flour
2 eggs, beaten
3/4 cup fine bread crumbs
Vegetable oil for frying
Peel eggs and set aside. Divide sausage into 6 portions. Roll each egg in flour and with hands press a portion of the sausage around each egg. If the sausage sticks to your hands, dip your hands in a little water to make pressing the sausage easier. Dip sausage-wrapped eggs into beaten eggs and roll in bread crumbs. Heat vegetable oil to 350 degrees. Cook each egg in oil about 4-5 minutes or until sausage is cooked and browned. Drain on paper toweling. Serve warm. Makes 6.
Reuben Strata
12 slices rye bread
6 slices Swiss cheese
12 oz. thinned sliced corned beef- or 2 cups chopped corned beef
1 c. sauerkraut, squeezed dry
½ c. Thousand Island dressing*
3 eggs
2 c. milk
½ t. salt
½ t. hot pepper sauce, or to taste
Lightly grease a 9×13-inch baking dish. Place six slices of bread on bottom of the dish. You might have to trim the bread to fit. Top each slice of bread with a slice of cheese. Top cheese with the corned beef and sauerkraut. You can use a little more or less sauerkraut, depending on your taste. Spoon about a tablespoon of the dressing over each "sandwich". Top with remaining six slices of bread, trimmed to fit pan, if needed. Combine remaining ingredients and pour over sandwiches. Cover dish and let stand in the fridge, several hours or overnight. Bake, uncovered, in a 350-degree oven for 40-45 minutes, or until puffed and set. Let sit a few minutes before serving. Serves 6.
Orange and Oatmeal Scones
2 1/2 cups flour
2 cups rolled oats
1 cup sugar
1 teaspoon salt
1 tablespoon baking powder
1/2 teaspoon baking soda
1/2 cup very cold, unsalted butter – cut into chunks
1 egg
1/2 cup orange juice
2 t. grated orange peel
1 cup raisins – plumped and well dried
Glaze
milk, sugar, orange zest
Line a large baking sheet with parchment paper (double two sheets if you have them – one inside the other). Preheat oven to 425 F. In a large bowl, place flour, oatmeal, sugar, salt, baking powder, baking soda and mix together. Cut or rub in butter to make a mealy mixture. Stir in egg and orange juice. Add orange peel and raisins. Mix to make a soft dough. Turn out onto a lightly floured board and knead for a few minutes. Roll or pat out into a thickness of 1/2 inch. Using a serrated cookie cutter cut into disks or rounds. Brush with milk and sprinkle with sugar and orange zest. Bake until nicely browned – about 14 minutes. Makes about 24.
Cinnamon-Vanilla Belgian Waffles
2 c. all-purpose flour
3/4 cup sugar
3-1/2 teaspoons baking powder
2 t. cinnamon
2 eggs, separated
1-1/2 cups half and half- or milk
1 cup butter, melted
2 t. vanilla extract
Sliced fresh strawberries, powdered sugar or syrup
In a bowl, combine dry ingredients. In another bowl, lightly beat egg yolks. Add milk, butter and vanilla; mix well. Stir into dry ingredients just until combined. Beat egg whites until stiff peaks form; fold into batter. Bake in a preheated waffle iron according to manufacturer's directions until golden brown. Serve with strawberries, powdered sugar or syrup. Yield: 10 waffles (about 4-1/2 inches).
Stuffed French Toast
1 (8 oz.) package cream cheese, softened
1 t. vanilla
1/2 c. chopped nuts
1 16-oz. loaf French bread
4 eggs
1 c. whipping cream or half and half
1 t. vanilla
1/2 t. ground nutmeg
Mix together cream cheese, vanilla and nuts. Set aside. Cut bread into 10-12 1 1/2 inch slices. Cut pocket in each slice and fill with 1 1/2 T. filling. Combine eggs and whipping cream with remaining vanilla and nutmeg. Use tongs to dip the bread, taking care not to squeeze out the filling. Cook toast on lightly greased griddle until browned on both sides. Keep toast warm in oven until ready to serve. Serve with maple syrup, warmed preserves or powdered sugar. Makes 10-12 slices.
Steak and Pepper Omelet

Fresh Blackberry Scones

Blueberry Sweet Rolls

Ham and Asparagus Quiche

Scotch Eggs

Reuben Strata

Orange and Oatmeal Scone

Cinnamon-Vanilla Belgian Waffles
For breakfast you can't do much better than pancakes or waffles. I love both but rarely have them unless there is a special reason. For the New Year I am planning on making at least one of these. The hard part will be deciding which one. I often serve pancakes and waffles with a fruit based syrup or powdered sugar. I prefer to warm the syrup up. It keeps the pancakes and waffles from cooling down too quickly. Of course, you can't do much better than real maple syrup, warmed up with some fresh butter.
Blueberry Pancakes
2 c. biscuit mix*
1 c. milk
2 eggs
1 c. fresh or frozen blueberries
Combine mix, milk and eggs until just blended. Fold in berries. Pour batter by scant 1/4 cups in lightly greased griddle or skillet over moderate heat. Turn when pancakes are dry around the edges. Cook until golden brown. Makes about 13.
* Like Bisquick or Jiffy Mix or home made- recipe follows
Biscuit Mix*
8 c. flour
1 c. powdered milk
1 c. powdered buttermilk (or 1 more cup powdered milk)
1/4 c. baking powder
1 T. salt
1 1/2 c. shortening*
Combine dry ingredients and cut in shortening until well mixed. Store in tightly covered container. Makes 10 cups.
* You can substitute coconut oil or butter for the shortening- but mix will have to be kept cool. Refrigerate if using butter and use within 3 months.
Blueberry Syrup
4 c. blueberries
1 c. water
1½ c. sugar
In saucepan heat berries and water to a boil and boil 2 minutes. Crush berries with a potato masher as they cook. Add sugar and cook for 10- 15 minutes on medium heat until mixture thickens.  Process syrup with an immersion blender or in a blender until smooth.  Cool, then refrigerate. Keeps a couple of weeks. Makes about 3½ cups.
Pumpkin Pancakes
2 c. baking mix – like Bisquick or Jiffy Mix – I make my own*
3 T. brown sugar
2 t. cinnamon
1 t. nutmeg
1 1/2 c. evaporated milk
1 c. solid pack pumpkin
2 eggs, beaten
2 t. vanilla
Combine dry ingredients in mixing bowl and set aside. Whisk together wet ingredients and stir into dry ingredients. Lightly grease a skillet and cook over moderate heat. Use about 1/3 c. of batter per pancake. Turn when edges appear dry. Makes 16.
Peanut  Butter Pancakes
1 c. buttermilk baking mix, like Bisquick or Jiffy mix, I make my own
2 T. sugar
1 egg
1/3 c. peanut butter
2/3 half and half
1/4 c. water
Combine baking mix and sugar and set aside. Whisk together remaining ingredients until smooth and add the dry ingredients, stirring until just combined. Heat and lightly oil skillet and use 1/4 c. of better for each pancake. Cook over medium heat. Turn when edges appear dry. Makes 8.
Red Grape Syrup
  I took about 2 cups of frozen grapes and set them in a small skillet with about 1/4 cup of sugar. I let this mixture cook over medium high heat until the grapes were tender and the liquid in the pan had created a syrup. I didn't need to add water as the frozen grapes gave off their juices as soon as they started to heat up. With fresh grapes you might want to add a little water to get the whole process going. It took about 15 minutes in all. While the grapes were cooking I made the pancake batter and began cooking the pancakes. When the pancakes were done I topped them with a few grapes and a drizzle of the pretty grape syrup.
Orange Pecan Waffles
2 cups flour
4 teaspoons baking powder
2 tablespoons sugar
1 teaspoon salt
1 t. orange zest
2 eggs
1 cup orange juice
½ c. milk
½ c. melted butter
1 T. vanilla
¾ c. pecans. Note: Probably would have been better to chop them up a little. I just tossed them in the batter whole.
Whisk together dry ingredients and set aside. Beat together remaining ingredients and add to dry ingredients mixing until smooth. Cook in a waffle iron until crisp.
Fudge Waffles
 2 eggs, room temperature
1/2 stick butter, melted and cooled 
3/4 c. sugar
1 t. vanilla
1 c. buttermilk
1 c. flour
1/2 c. cocoa
1/2 each baking powder and baking soda
1/2 t. cinnamon
1/4 t. salt
1/2 c. chopped nuts, optional

1/2 c. chocolate chips, optional

Beat first three ingredients until light and foamy, about 2 minutes. Stir in vanilla and milk. Beat in dry ingredients just until blended. Stir in nuts and chips. Bake until waffles are cooked through. Makes 4 cups of batter. Serve with whipped or sour cream and fresh fruit.