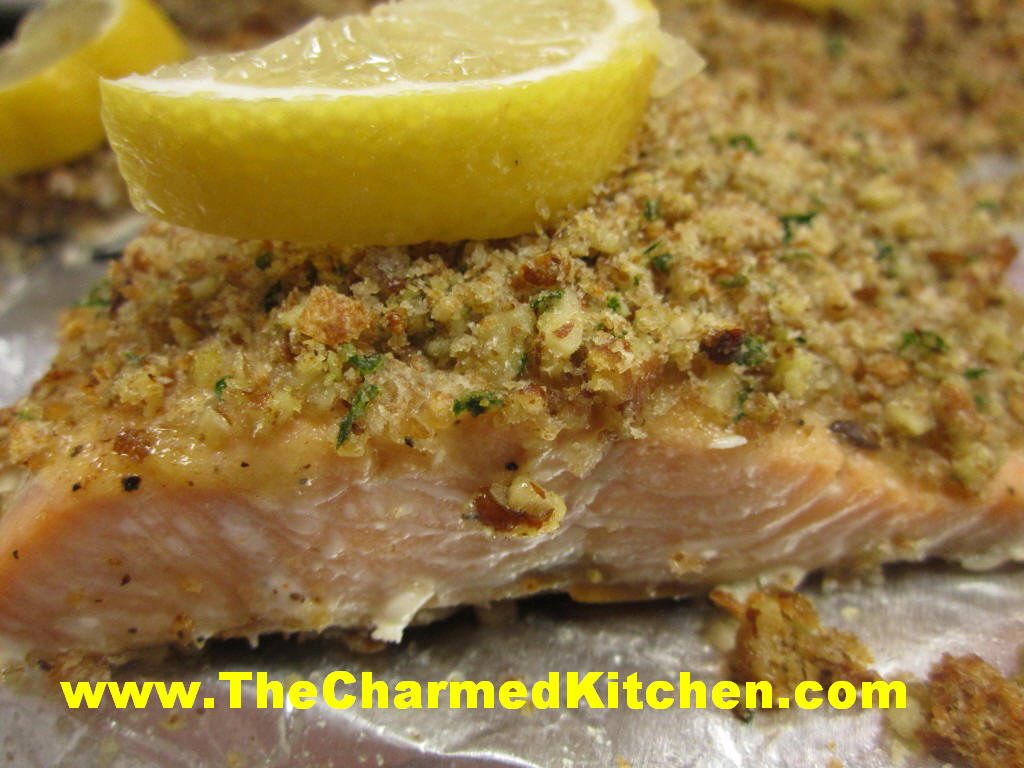 If you love salmon like I do, this is a fun way to prepare it. The crunch from the nuts adds a nice contrast to the texture of the fish. The flavors work well together, too. You don't have to use pecans. I prefer them, but finely chopped walnuts, hazelnuts, almonds or even pumpkin seeds might be fun.
A combination of Dijon mustard, butter and honey helps the nuts to stick to the fish. There are a few fresh bread crumbs in there as well.
This dish is simple enough to prepare any night of the week, but special enough to make for company.
I used salmon fillets. You could use a whole side of salmon. You just have to increase the baking time to about 20-25 minutes and reduce the oven to 425 degrees. Depending on the size of the piece of salmon, it might take a few more minutes.
You could use other fish, but you need a sturdy fish that will stand up to the topping. I have made it with Steel Head Trout and it worked out beautifully.
Pecan Crusted Salmon
2 T. Dijon Mustard
2 T. melted butter
4 t. honey
1/4 c. fresh bread crumbs
1/4 c. finely chopped pecans or walnuts
2 t. chopped parsley
4 salmon fillets
Salt and pepper
Lemon wedges
Mix together mustard, butter and honey and set aside. Mix together bread crumbs, nuts and parsley and set aside. Season each fillet with salt and pepper. Place on lightly greased baking or broiling pan. Brush each fillet with mustard mixture. Divide crumb mixture among fillets, patting to hold. Bake in 450 degree oven for 10 minutes per inch thickness of fillets. Serve with lemon wedges. Serves 4.
For breakfast you can't do much better than pancakes or waffles. I love both but rarely have them unless there is a special reason. For the New Year I am planning on making at least one of these. The hard part will be deciding which one. I often serve pancakes and waffles with a fruit based syrup or powdered sugar. I prefer to warm the syrup up. It keeps the pancakes and waffles from cooling down too quickly. Of course, you can't do much better than real maple syrup, warmed up with some fresh butter.
Blueberry Pancakes
2 c. biscuit mix*
1 c. milk
2 eggs
1 c. fresh or frozen blueberries
Combine mix, milk and eggs until just blended. Fold in berries. Pour batter by scant 1/4 cups in lightly greased griddle or skillet over moderate heat. Turn when pancakes are dry around the edges. Cook until golden brown. Makes about 13.
* Like Bisquick or Jiffy Mix or home made- recipe follows
Biscuit Mix*
8 c. flour
1 c. powdered milk
1 c. powdered buttermilk (or 1 more cup powdered milk)
1/4 c. baking powder
1 T. salt
1 1/2 c. shortening*
Combine dry ingredients and cut in shortening until well mixed. Store in tightly covered container. Makes 10 cups.
* You can substitute coconut oil or butter for the shortening- but mix will have to be kept cool. Refrigerate if using butter and use within 3 months.
Blueberry Syrup
4 c. blueberries
1 c. water
1½ c. sugar
In saucepan heat berries and water to a boil and boil 2 minutes. Crush berries with a potato masher as they cook. Add sugar and cook for 10- 15 minutes on medium heat until mixture thickens.  Process syrup with an immersion blender or in a blender until smooth.  Cool, then refrigerate. Keeps a couple of weeks. Makes about 3½ cups.
Pumpkin Pancakes
2 c. baking mix – like Bisquick or Jiffy Mix – I make my own*
3 T. brown sugar
2 t. cinnamon
1 t. nutmeg
1 1/2 c. evaporated milk
1 c. solid pack pumpkin
2 eggs, beaten
2 t. vanilla
Combine dry ingredients in mixing bowl and set aside. Whisk together wet ingredients and stir into dry ingredients. Lightly grease a skillet and cook over moderate heat. Use about 1/3 c. of batter per pancake. Turn when edges appear dry. Makes 16.
Peanut  Butter Pancakes
1 c. buttermilk baking mix, like Bisquick or Jiffy mix, I make my own
2 T. sugar
1 egg
1/3 c. peanut butter
2/3 half and half
1/4 c. water
Combine baking mix and sugar and set aside. Whisk together remaining ingredients until smooth and add the dry ingredients, stirring until just combined. Heat and lightly oil skillet and use 1/4 c. of better for each pancake. Cook over medium heat. Turn when edges appear dry. Makes 8.
Red Grape Syrup
  I took about 2 cups of frozen grapes and set them in a small skillet with about 1/4 cup of sugar. I let this mixture cook over medium high heat until the grapes were tender and the liquid in the pan had created a syrup. I didn't need to add water as the frozen grapes gave off their juices as soon as they started to heat up. With fresh grapes you might want to add a little water to get the whole process going. It took about 15 minutes in all. While the grapes were cooking I made the pancake batter and began cooking the pancakes. When the pancakes were done I topped them with a few grapes and a drizzle of the pretty grape syrup.
Orange Pecan Waffles
2 cups flour
4 teaspoons baking powder
2 tablespoons sugar
1 teaspoon salt
1 t. orange zest
2 eggs
1 cup orange juice
½ c. milk
½ c. melted butter
1 T. vanilla
¾ c. pecans. Note: Probably would have been better to chop them up a little. I just tossed them in the batter whole.
Whisk together dry ingredients and set aside. Beat together remaining ingredients and add to dry ingredients mixing until smooth. Cook in a waffle iron until crisp.
Fudge Waffles
 2 eggs, room temperature
1/2 stick butter, melted and cooled 
3/4 c. sugar
1 t. vanilla
1 c. buttermilk
1 c. flour
1/2 c. cocoa
1/2 each baking powder and baking soda
1/2 t. cinnamon
1/4 t. salt
1/2 c. chopped nuts, optional

1/2 c. chocolate chips, optional

Beat first three ingredients until light and foamy, about 2 minutes. Stir in vanilla and milk. Beat in dry ingredients just until blended. Stir in nuts and chips. Bake until waffles are cooked through. Makes 4 cups of batter. Serve with whipped or sour cream and fresh fruit.