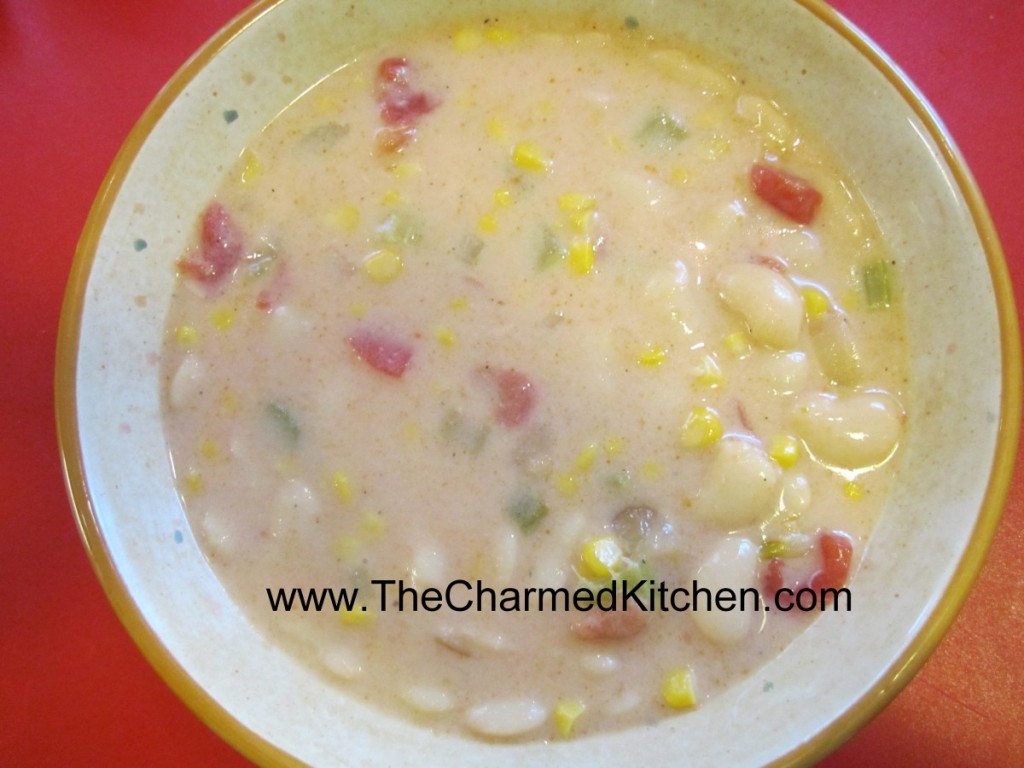 Theissoup is hearty and rich flavored. I used oil and almond milk, so the soup was vegan. You could use milk and butter, if you prefer.  It tastes great, either way. It also comes together quickly, with ingredients you can keep on hand, so it is a great homemade soup when you don't have a lot of time. The combination of milk, tomatoes and corn also makes it a pretty dish to serve. I used a jar of my home canned tomatoes and corn I had frozen last summer.
Basque Soup
1 c. chopped onions
1 1/2 c. chopped celery
1/4 c. oil or butter – we used oil in class
1/4 c. flour
3 c. milk*
1 (16 oz.) jar stewed tomatoes, undrained
1 can whole kernel corn, undrained- we used frozen corn
3-4 cans butter beans, drained and rinsed
3-4 cups water and 1T. paste-type vegetable soup base
or 3-4 cups vegetable broth
pepper to taste
hot pepper sauce to taste
shredded mild cheese, optional
Sauté onions and celery in oil until tender. Stir in flour until smooth and add milk, stirring to keep lumps from forming. Stir over medium heat until milk has thickened and begins to boil. Stir constantly as mixture simmers for an additional minute or two. Add remaining ingredients, except cheese and bring up to a simmer. Adjust seasonings. Ladle into bowls and top with cheese, if desired. Serves 8-10.
Note: You can use almond, rice, oat or soy milk in place of the dairy milk, if you like.