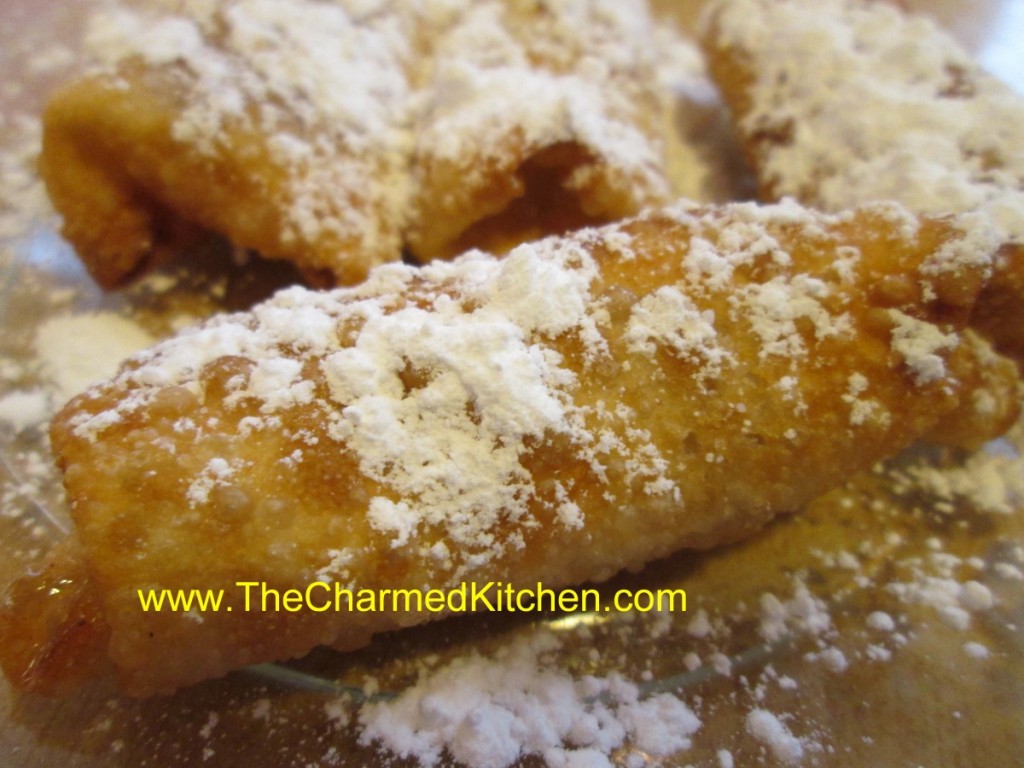 I was planning an Asian inspired dinner for a friend. Since I was using won ton wrappers to make appetizers I decided to use some of them for dessert, too. I wrapped a small amount of apple pie filling in each wrapper, sealed them up and pan fried in a little oil. Before serving dusted them  with powdered sugar. They taste like little crispy apple pies. This is also a great way to use up pie filling if you have some leftover from another dessert. Not a traditional Chinese dessert but a nice finish for dinner. These are tiny bites, allow 3-4 per person.
Apple Pie Wontons
24 wonton wrappers
1 c. apple pie filling about
oil for frying
powdered sugar for dusting
Place wonton wrapper on a work surface with point facing toward you. Place a rounded teaspoon of the pie filling in the middle and fold the sides in to meet in the middle. Use a little water to moisten the top point of the wrapper and roll it up. Repeat with remaining wrappers. Heat 1/2 inch of oil in skillety to 375 degrees and fry the wontons, a few at a time, until golden brown.Turn as they fry to brown evenly. Drain on paper towels or cooling rack. When all the wontons have been fried and cooled down a bit, dust with powdered sugar before serving. Makes 24, serving 6.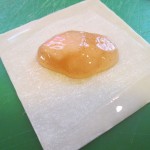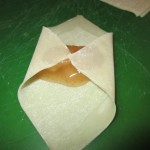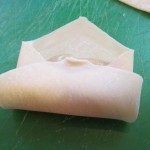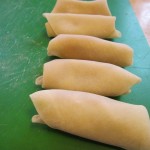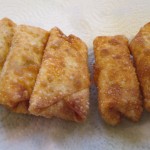 I had an open package of won tons and needed a quick dessert the other night so I made these cherry won tons. I started with a can of tart cherries I had gotten from King Orchards. They are just cherries so I sweetened them and added vanilla, thickened them a little a made what amounts to cherry pie filling. The nice thing about starting with plain cherries is that I was able to control the amount of sugar I added. I am not a fan of overly sweet desserts. I placed a small amount of filling in a wonton and moistened the edges of the wonton with water so it would seal. Some I rolled up like little egg rolls. I also made some more like ravioli, placing filling in the middle and pressing a second wonton on top of the first. I fried them in a minimum amount of oil in a small pan and dusted them with powdered sugar before serving. It was a great last minute dessert.
Cherry Vanilla Filling
1 can (15 oz.) plain tart cherries
3 T. cornstarch
1/2 c. sugar
2 t. vanilla
Combine all ingredients in saucepan and cook over medium heat, stirring constantly until mixture is thickened and bubbly. Allow to cool before using in wontons.